Obaba



Location(s)

Breed

Hat

Glasses

None

Other

Quote

"I sensed you have come to see me today."
Obaba is a shaman that dogs used to go to if they were ill. She would use her strange ways of curing them, as medicines weren't around back then. She also has the ability to see in the realm of the ancs like the player. Later, however, everyone thinks of her practices and techniques of curing as voodoo or superstition. As a result, they now go to see Dr. Potan instead. Obaba and Dr. Potan have a negative history with each other, as a big disagreement on how to cure his terminally ill girlfriend led to her unfortunate death.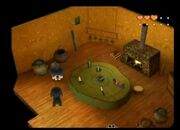 However, later in the game, Obaba and Dr. Potan make amends in order to help the player become a Sniff Master.